In this post, I take a look at two quarterfinal matches that will take place on Tuesday, the women's match that pits the French player Kristina "Kiki" Mladenovic against the Swiss player Timea Bacsinszky, and the men's match that opposes the defending champion Novak Djokovic to Dominic Thiem, one of the leading members of the ATP's "next generation."
Mladenovic (13) vs Bacsinszky (30)
This is a very intriguing match-up not only tactically but also because of the inspiring runs of both players. Kiki, who feeds off the French crowd better than any other French woman (Gaël Monfils would be the one among the French men), has so far recorded three marathon victories against Jennifer Brady
Shelby Rogers and the defending champion Garbine Muguruza, and a straight-set one against Sara Errani, who is a respectable opponent on clay at any moment in her career. Kiki is enjoying, in 2017, the best campaign of her tennis career, moving up to number 7 in the Porsche Race Singles ranking that determines who qualifies for the year-ending WTA Championships. In short, she is on fire this year, and in this tournament.
Jimmie48Photography
She faces Timea Bacsinszky, one of the most versatile players on the WTA Tour. Kiki has faced her twice in the last 12 months, winning once on grass courts, losing the other one on hard. I do not believe that says much (not that I am a big believer of previous head-to-head matches having a big impact on the current match anyway), considering this will be their first encounter on clay courts. Timea defeated Venus Williams in the last round, taking the last two sets comfortably despite the disappointment of losing the first set from 5-1 up, and leaving no Americans in the women's draw for the second week (none left in men either). Timea is one of the more mature players on the tour, with a life experience that goes beyond the tennis courts. She does not easily gets distracted by the crowd and I am sure she is expecting nothing less than the same type of arduous support from the French spectators for her opponent that the latter received during the third sets of her Brady, Rogers, and Muguruza wins. Especially against Rogers, down 2-5 in the final set, one could almost sense the positive energy from the crowd flowing in Kiki's direction. Rogers felt it too (and believe me, Rogers is a cool customer in the body-language and mental discipline departments), losing eleven out twelve points in the three-game stretch that brought Kiki back to 5-5. I do not believe I would be exaggerating if I claimed that Mladenovic would not have made it this far had the tournament taken place elsewhere than at Roland Garros.
The key questions here are, can Kiki bring the match to a point in which the crowd can become a factor, and if she does, will Timea manage to mentally block the crowd out? My answer to the first question: yes, Kiki can. My answer to the second: yes, Timea definitely will!
First of all, the Swiss player is fairly well liked by the Roland Garros crowd, and I believe there will be a small group of Timea supporters who will also make their voices heard. I also do not expect any player, let alone Kiki, to sustain the level of play that she has demonstrated over a two-week period, going through one extended (and exhausting) match after another. They take a lot out of your reserves not only physically, but also mentally. I look for Kiki's game to become a bit more erratic, even with a vociferous crowd pumping her up, if the match goes beyond 5-5 in the final set. Timea will not lose her cool and execute her game plan regardless of the score or tension.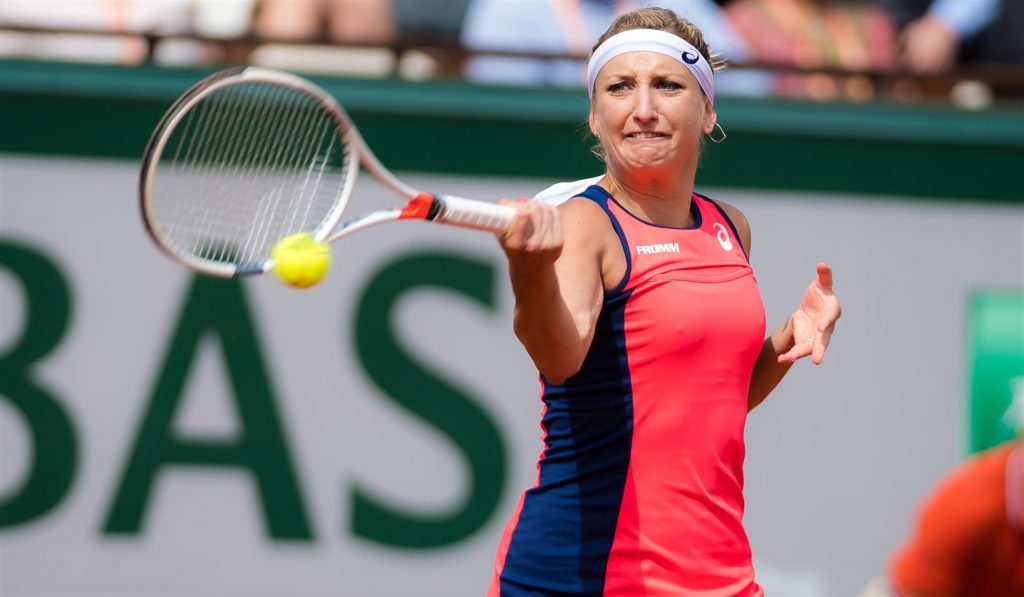 Jimmie48Photography
In terms of tactics, I expect Timea to use all the shots available in her arsenal, without getting into predictable rally patterns that could allow Kiki to accelerate and take charge. I believe the Swiss will use her slice generously on both sides – yes, she also possesses a formidable forehand slice that she occasionally uses –, yet step into the court whenever she can to push Kiki around the baseline, and often use her drop shots when Kiki finds herself backed up (or backing up, expecting an aggressive hit from her opponent).
Kiki, for her part, will need a lot of forehand winners, which she can produce when needed, but more importantly, will have to set up the point so that she can get those types of opportunities. Couple of ways to do that: get a lot of first serves in and take risks on returns when the opponent serves a second serve. I really believe Kiki's chances of winning decrease drastically if Timea wins the first set, much more so than Timea's chances of winning the match if Kiki were to win the first set. Timea's ability to adjust her game and apply a different make-up to her shots is much more developed than that of Kiki's. The French's options diminish if she cannot impose her baseline game on her opponent. I am going with a 2-set Bacsinszky win here, one set being very tight, the other one being less contested.
Djokovic (2) vs Thiem (6)
In 2016, when these two players met in the semifinal here in Paris, Thiem was having the best year of his career that saw him enter the top 10 for the first time, and Novak Djokovic was in the process of joining the ranks of the elite in the history of our sport by dominating the tour. He would eventually go on to take the title at Roland Garros, thus winning all four Majors consecutively and accomplishing the "Novak Slam". In their particular match that afternoon, Novak routed Dominic in three sets.
One year later, Thiem is once again having a career year. Novak, however, is not last year's version of himself by any stretch of the imagination. I don't expect this match to be one-sided, in fact, I would guess that it will go to the distance (and hopefully) go down as one of the best matches of the tournament. It has the ingredients to be one.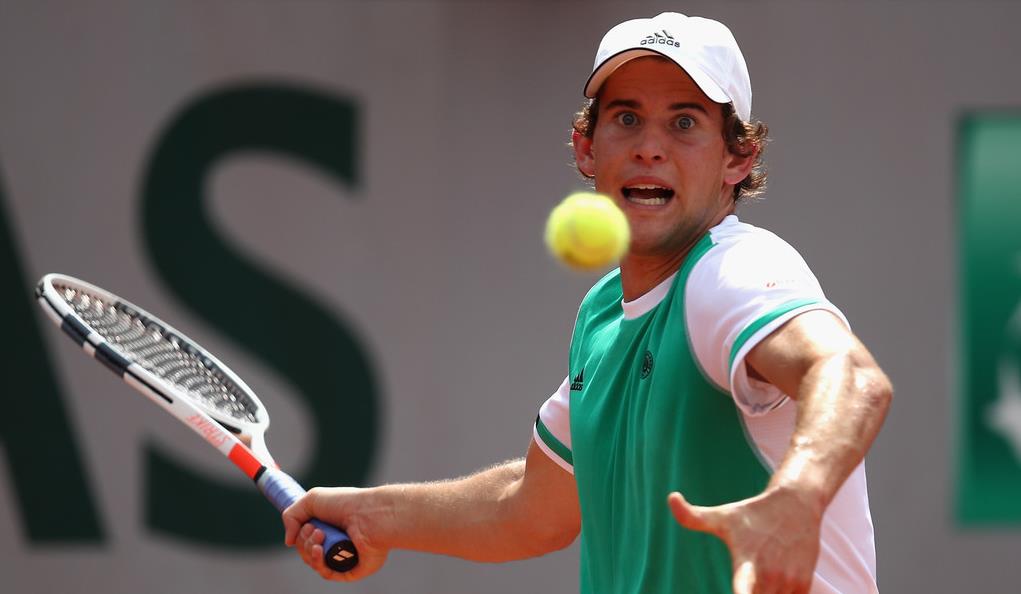 Julian Finney – Getty Images
Djokovic finally gave signs (just signs) of his old self in the post-1st-set portion of his match against Albert Ramos-Vinolas and sporadically in his earlier matches. However, none of those players are Thiem's level, and furthermore, none of them had the amount of belief that they could win like the Austrian will, when he steps on the court tomorrow. He has now spent a full year at the top-10 level and has recorded some terrific wins, notably the one against Rafael Nadal in Rome, the only clay-court loss for the Spaniard this year.
I know people will point to Thiem's 0-5 record vs Djokovic this year, including the lop-sided loss in the finals of the Rome tournament. I am just not sure how much that will matter to Dominic when he steps on the court tomorrow to play a five-set match in the quarterfinals of a Major. First of all, that is no longer undiscovered territory for him. Second, he is taking on a player who may still harbor many doubts in his mind about his game. This also an opportunity of a lifetime for the Austrian. He would have to defeat Djokovic and Nadal, and win one more match, to claim his first Major title. It would be nothing short of a miracle, but if it were to happen, it would once and for all enter him into the elite of today's game in a matter of five days.
Novak, even at "less-than-his-top" level is still one of the world's few greatest players. He will still not give away gifts and remain solid from the baseline. Thiem will have to create chances from the backcourt and he is capable of doing that. The problem for him, is that balls will come back a few more times in each rally against Djokovic than they may have done so against lesser players. One key for this match-up: patience. Will Thiem be patient enough to build points up and win them instead of trying to nail spectacular shots for at least three sets? Will Novak be patient enough to endure a possible assault from Thiem for a set or so, knowing that he will prevail if he remains resolved and continues his machine-like consistency?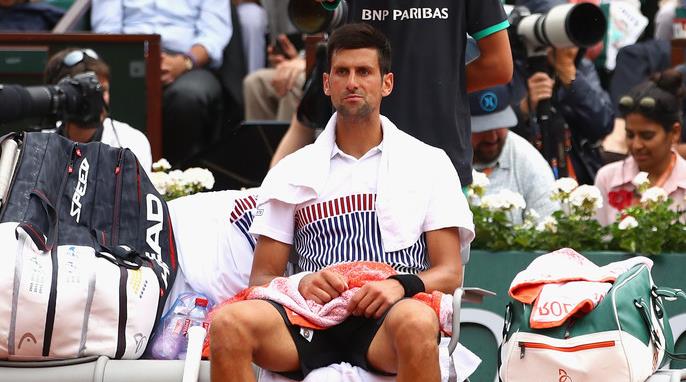 Clive Brunskill – Getty Images
Another key: serve and return performances. Considering that these two players lead the stats in the return categories at the French Open so far, which one will take bigger cuts on second-serve returns? Can someone like Thiem, who is prone to double faulting at times, be shaken by Nole's aggressive returns? These are some of the tactical challenges waiting for Thiem and Djokovic.
Then, there is the physical side. Djokovic has the edge here if the match transforms into a long, grueling five-set affair. By Djokovic "having the edge here," I mean he is "less likely" to suffer fatigue or cramps in an extended match than his opponent. Eventually, that could be the difference in this match. I am picking Nole to record a five-set victory. I think Thiem will have to wait one more year (and probably no longer) to join the ranks of the elite players, barring injuries.
Note: Click here to follow MT-Desk on Twitter – This week: live from Roland Garros