Simona Halep (3) vs Jelena Ostapenko
Stop the press! There will be a new Major title holder after tomorrow. It will either be the no. 4 player in the world Simona Halep who has chased a Major title for a while now and received a lot of (unfair) criticism for not having won one, or the no. 47 Jelena Ostapenko who was probably unknown to the large majority of casual tennis fans prior to this Roland Garros. One thing that even the most die-hard tennis followers would have never guessed two weeks ago is that these two players would face each other in the final in Paris. For my part, I cannot wait to see this exciting match that pits one of the hardest-hitting players in women's tennis – one that produces an astonishing amount of winners (245 so far in 6 matches) – against one of the fastest and most consistent ones. The two players' strengths provide a compelling contrast in style, one that usually results in entertaining, high-quality encounters.
Ostapenko already faced some remarkable baseliners and came out on top each time. Her last two victories came against Caroline Wozniacki and Timea Bacsinszky who both have excellent clay-court skills and play essentially from the baseline, although somewhat different in the type of shots that they produce. Wozniacki banks on her footwork, consistency, and depth. She accelerates the pace only when strategically needed (ask Svetlana Kuznetsova about that). Bacsinzky has a lot more variety on her ground-strokes and prefers to step in the court to hit aggresively at times, and control the rallies. Ostapenko topped both of them in two high-quality three-setters. She will have to beat another baseliner, at least just as solid as those two, in order to lift her first trophy in professional women's tennis – she has yet to record a WTA title in her young career. Halep's game stands somewhere between Wozniacki's and Bacsinzky's in that, while her A-game is based on her solid groundstrokes and footwork, she varies the speed and the angle of her shots more than the Caroline, yet uses less variety of spins and specialty shots than Timea. Halep also has a first-rate down-the-line backhand that she uses abundantly.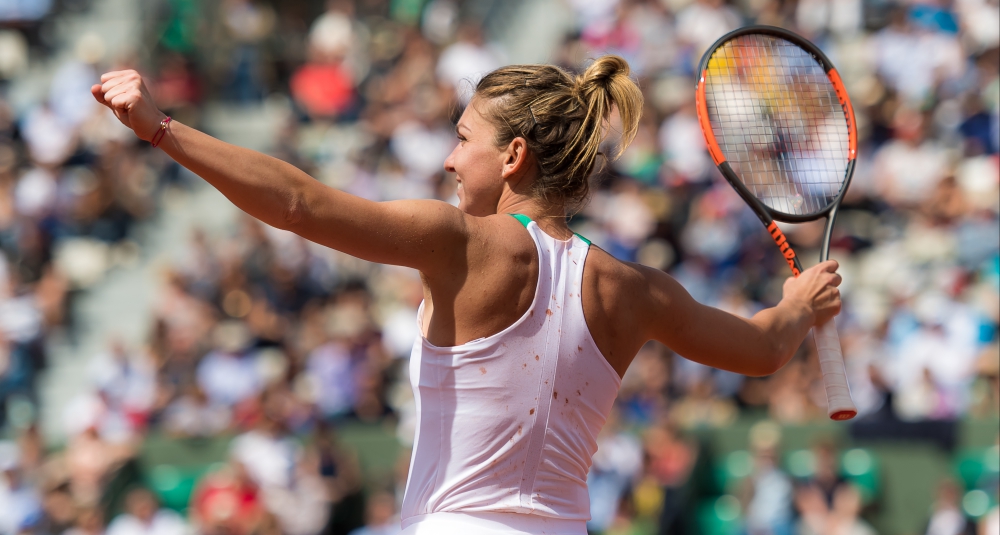 Photo: Jimmie48Photography
The big challenge for Simona centers on her ability to anticipate Ostapenko's shots early, in order to make the Latvian hit that extra ball or two that may result in errors. However, what Ostapenko does to her opponents can negate that. She begins to nail so many winners that her opponent feels pressured into hitting a few of their own rather than guiding the extra deep shot back. Then, they gradually get sucked into the type of high-velocity game that favors Ostapenko. It happened to Wozniacki and Bacsinszky more than once during their respective matches. If an individual knew neither the history of these two players nor their past performances, and just watched them throughout this tournament without knowing their identity, I believe he or she would pick Ostapenko to defeat Halep. That is how impressive Ostapenko has played.
Yet, there is always the other side of the coin, the side that heavily favors Halep. She is an evolved player, mentally and physically, whose next step into the world of elite cannot be, at this point, anything other than adding a Major title to the list of her accomplishments. She said in her press conference today that this final feels much different (read that as "more serene") than the 2014 final in which she felt an air of chaos around her with "50 friends and family" around her. It was her first time in the final of a Major. This year, she is just surrounded by her team and you get the sense, from listening to her talk about it, that she feels more tuned in. You can only imagine that coming back from 3-6 1-5 down against Elina Svitolina must have been only increased her desire to win the title.
For Ostapenko, this is all new territory, and it is a big deal! Even the President of Latvia called her to congratulate her on reaching the finals. Everything will be different tomorrow for her, from the moment she steps into the grounds, to warming up for her match, to walking out to the court. Yes, Ostapenko is fearless. Yes, she can whack the ball for a winner, even under pressure. However, the realization of playing on the Philippe Chatrier court with your first Major title on the line carries an inescapable weight, and any player claiming not to get overwhelmed by that, not even a bit, is simply lying or in denial. Do not be surprised if Ostapenko has a shaky start to the match.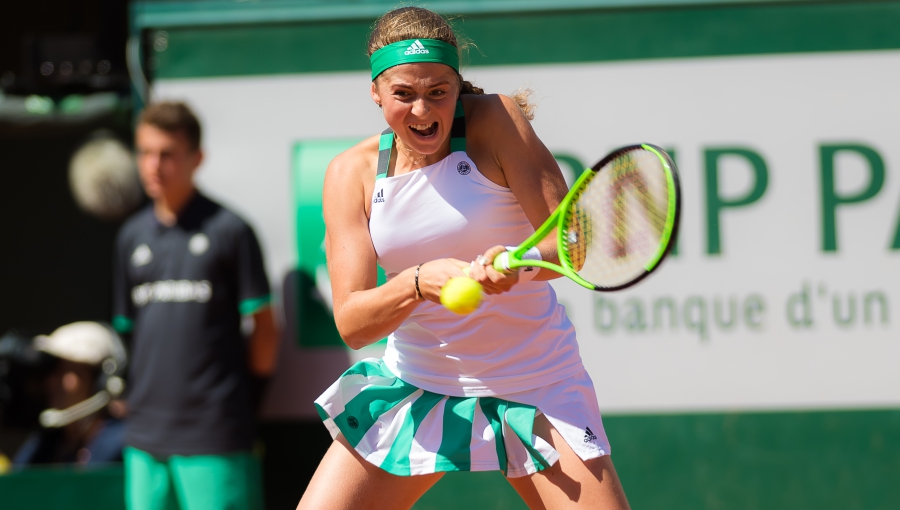 Photo: Jimmie48Photography
Unforced errors for Halep, and return efficiency for Ostapenko will be the key stats to look for during the early games. Halep probably understands that she will see several winners go by her. She also knows that she can limit the damage to only spectacular winners by Jelena, by landing a large percentage of first serves in, and trusting her footwork to get back as many shots back in play as possible. Halep should look to add spice to her second serve at the cost of making a few more double faults, because there is nothing that her opponent enjoys, and builds confidence upon, more than hitting return winners. I believe Halep will win her first Major title on Saturday. As for Ostapenko, it will be the first giant step for toward winning her first in the future. I am looking for a straight-set victory, with a close finish at the end. Simona has wonderful strategists in her team, and possesses the high-IQ needed to implement the game plan that they concoct together.
Note: Click here to follow MT-Desk on Twitter – This week: live from Roland Garros