Following a slew of upsets and thrillers throughout the first three rounds, the second week features a good mix of opportunistic and in-form players from the middle echelons (as in, not seeded high), and established players eager to confirm their top-player status. Here is my take on three matches, scheduled for Monday, that feature such players.
Caroline Garcia (8) vs Madison Keys (17)
Garcia is having a solid run, a very solid one. I can't put it on the same level as the quarterfinal-run she had in last year's Roland Garros – not yet – but it has the potential to match and surpass it. In terms of performing at the Majors, Caro is steadily fulfilling the primary requirement, which is, a string of second-week appearances, gradually pushing the envelope further. You judge for yourself: a third-round run in the 2016 US Open, followed by a quarterfinal and a fourth-round appearances in Roland Garros and Wimbledon in the summer of 2017. This is what I call a healthy progress for a (near-)future contender.
She enters yet another second week in a Major and her road to get there has not been a cakewalk by any means. She had to solve two puzzles in a row in the previous rounds, overcoming the up-and-comer Marketa Vondrousova in the second round, and Aliaksandra Sasnovich next. She passed both tests with flying colors, don't let the close scorelines tell you otherwise. Garcia offered her best in the final sets of both matches, clutch responses to the successful challenges thrown at her in the earlier portions of each match. Furthermore, Vondrousova and Sasnovich are different players, the former one being a crafty left-hander, and the latter, a solid baseliner with a terrific backhand. Her conquest of both opponents in the extended moments of the final sets shows Caro's ability to make use of her I.Q. (of which she has plenty, her problem in the past has been nerves, never her on-court astuteness) in dealing with a variety of tasks presented to her.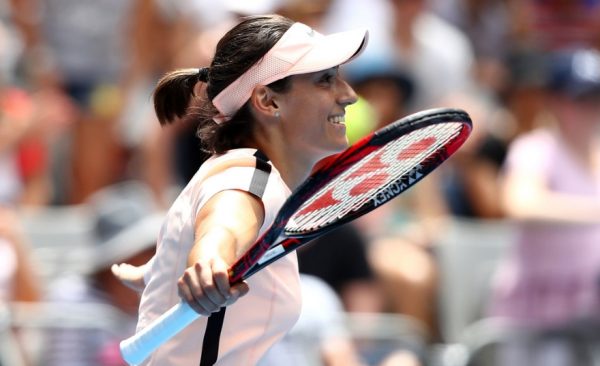 Photo: Cameron Spencer – Getty
Keys, last year's US Open finalist, now presents a daunting challenge to Garcia, not only because she is motivated herself to add another deep run to her list of accomplishments, but also because she can match Garcia's power and turn the tables on the French's preferred game plan. It is no mystery that both players would like to dictate rallies, keep their opponents on the run, and eventually finish the point with a baseline or a volley winner. It is also well-known that they struggle if they are forced to play defense, and thus, find themselves in the unusual role of having to scramble from corner to corner. It is that second factor on which rests the key to the outcome of this match.
First question: can each player, if forced to, retrieve a number of successive balls without erring? Second one: if so, can they turn such rallies to their advantage with a counter-punch shot, gain the initiative, and press back successfully? The way each player grapples with the two questions above will determine the winner. I should rather say, the player with the more emphatic "yes" answer to both will reach the quarterfinal round. I believe Garcia is a step ahead of Keys on the first part because she is slightly quicker than Madison with her first step. As to the second question, I am leaning toward the Amrican, only because one of her specialties is nail winners from anywhere on the court, even on the full run. At the end, my nod goes ever so slightly toward Garcia solely based on the fact that her previous two rounds got her primed and ready for Keys, whereas the American has not yet faced an opponent of Garcia's caliber.
Novak Djokovic (14) vs Hyeon Chung
Couple of the biggest questions coming into the men's draw have, for the most part, been answered. Djokovic is physically fine and the level of his tennis is not too shabby either. Notice how I threw "for the most part" in the first sentence. We cannot be one hundred percent sure of Novak's health until the end of this tournament, even if his win against Monfils was played under brutal conditions. He did also get a massage on his back during his last match, though I did not consider that worrisome. I will only feel at complete ease, once he survives a match that goes to distance and comes out to play the next one with still no physical pain. For example, finishing this tournament with zero pain in his arm or any other part of his body would undoubtedly mean that Novak can get back to his regular tournament schedule in 2018. That is my primary wish for him. I missed the Federer-Nadal rivalry prior to last year and was happy to see it make a come back in 2017. I missed Novak last year, and I would equally be happy to see him back in the mix.
The going-to-distance test, that I mentioned above, may very well take place against Chung. The South Korean is consistent, athletic, pesky. He probably feels to his opponents like that chewing gum that gets stuck in your hair and no matter how hard you try, you cannot get it out. He rarely donates points, uses angles efficiently, and accelerates well. Furthermore, he comes into this match with his confidence riding high. The problem for him, lies as much in the details of this particular match-up as the identity of his adversary.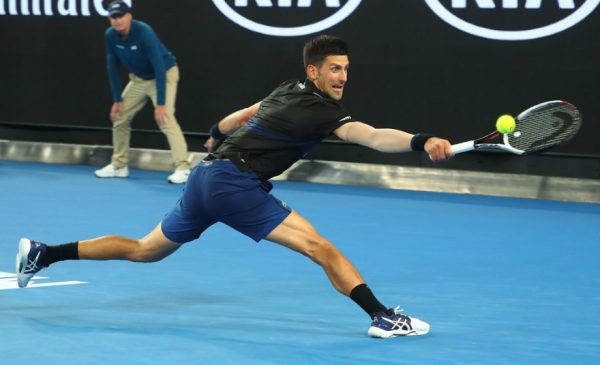 Photo: Pat Scala – Getty
Yes, Novak's status will play an important role as both players walk on the court. Fans can ignore it or pretend for one day that such notion does not exist, but it will loom large in Chung's mind. For a young player like him, facing a legend in a Major, is a one of the necessary steps in his own potential transformation into a top player in the future. Usually, the first time it happens, it does not end well for newcomers – remember Roddick's learning experience in his night-time Arthur Ashe stadium encounter vs Pete Sampras at the 2002 US Open before he became no.1 player one year later?
Regarding the match-up, Chung's two best shots from the baseline, the inside-out forehand and the cross-court backhand accelerations, play into Djokovic's strengths. In fact, if there were one area in which Novak does not appear to have lost an iota of confidence, it is his phenomenal ability to absorb heavy balls drilled to his backhand side and send them back with interest, especially down-the-line. I like Chung a lot, but I am afraid his run in this Major stops here. Do not expect his long-term development to halt anytime soon though. This tournament, coupled with his title in the Next Gen ATP Finals in November, are nothing less than confirmations of his steady rise in the ATP ranks.
Fabio Fognini (25) vs Tomas Berdych (19)
How well did Berdych perform against Juan Martin Del Potro in the third round? Extremely well. He may have played his best match ever in a Major, outside of his wins against Roger, Novak, and Rafa in previous ones. It was an eye-opening performance because it came somewhat unexpectedly. Berdych had not impressed anyone with his form since having reached the semis at Wimbledon. He had recorded 4 wins and 5 losses and gotten past the second round only once, in the ATP 250 event in Los Cabos. He has, however, played nothing but solid tennis in Melbourne so far – okay, maybe not in the second set of his second-round match, but let's not get picky.
His opponent Fognini has had an easier draw – relatively speaking of course – and has at times struggled with his concentration (nothing new there). But he is an underrated performer on the big stage. Frankly, I don't know how long it will take before the tennis world recognizes how impressive the Italian has been in Majors. I can understand why his on-court antics preoccupy and fascinate most people. However, if you take the time to follow his antics, get amused by them, comment on them, or criticize them, and yet you are half aware of the fact that he has reached the second week of Majors four times, the third round on three different occasions on his least favorite surface at Wimbledon, and been a steady fixture in the ATP top 50 during the last nine years, with substantial time in the top 30, I would argue that you are as much an antic (if not more) as a tennis fan as Fabio is as a player. He is a spectacular shot-maker and I guarantee you that his name is somewhere on top of the list of players that favorites at Majors would like to see the least in their early-round section of the draw.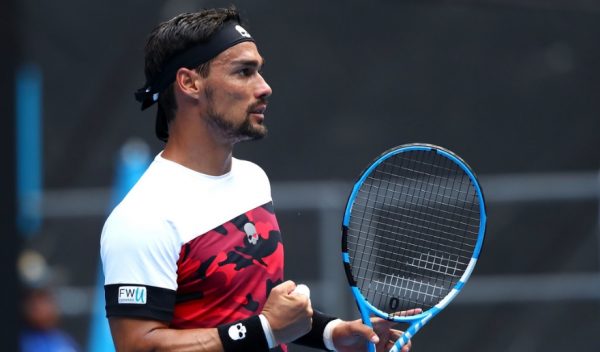 Photo: Cameron Spencer – Getty
Fabio has a chance to win if he can derail Tomas's steady and crisp production of power from the baseline. He is certainly skilled enough to do just that. Thanks to his impeccable timing on his swings, he possesses the ability to create angles and depth regardless of his positioning on the court. I am guessing that Berdych will see some balls come back with a vengeance from Fognini, in situations where other players would be happy to just remain in the point (one example: Fabio's shot production in his US Open win vs Nadal in 2015). You may think that Berdych already faced that problem with the Del Potro forehand and handled it fine, but Fognini is a different case. Firstly, the Italian can do it from both sides. Secondly, because of his wrist control during the swing, the direction of his shot is hard to read from both wings. He can prepare a certain way to hit a down-the-line flat winner, yet prepare i the same way to fabricate a mid-pace, topspin-angle shot.
If Fognini focuses on the task at hand, and not on the side shows, I am picking the upset here. I know, you don't have to remind me that I am perhaps expecting a lot. If you insist on doing so though, I would also ask in return, is it not expecting a lot to assume that Berdych will perform at the same level as he did against Del Potro?
Enjoy!