We are down to the final 8 of the men's draw at the Australian Open. Each quarterfinal match offers its own narrative, one more compelling than the next. On Tuesday, the line is clearly drawn as to who the favorites and the underdogs are in the two men's matches scheduled. These players also have, among themselves, different pursuits. Among the two favorites, one is trying to confirm his number-one status and shape further his place in the history of the sport, while the other is attempting to take a giant step toward that elusive elite status. Among the underdogs, one is seeking to earn more respect than he gets despite having reached the finals of Majors twice, winning one, while the other simply wishes to extend the best week of his young career.
Below are my previews of both matches.
Grigor Dimitrov (3) vs Kyle Edmund
Grigor gets another chance to solidify the argument of why he should be considered one of the current elite performers in men's tennis. He is not exactly there yet, mind you, but he has a golden chance to reach that status this week. Since having defeated the qualifier and 186th-ranked MacKenzie McDonald in the most unconvincing way possible – 8/6 in the fifth set after being bageled in the fourth, 8 aces and 9 double faults, and a slew of unforced errors – Dimitrov has gotten his act together. He put forth an impressive march to the quarterfinal round in his last two matches. I call it impressive in that he faced two quality opponents, Andrey Rublev and Nick Kyrgios, and showed poise almost each time they challenged him at crucial stages of both matches.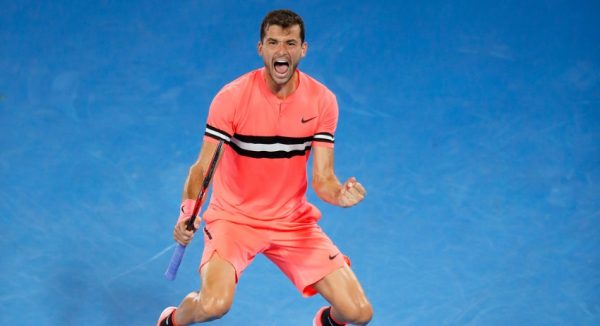 Photo: Darrian Traynor – Getty
His opponent's run to the quarterfinal, however, may take the cake in the overall sense of the term "impressive."
For starters, Edmund was not supposed to be here. When the draw was made, he was unseeded and scheduled to face the US Open finalist Kevin Anderson in the first round. The 49th-ranked Edmund, with the never-depleting gas tank, recorded the upset victory over Anderson, the first of two five-setters he won prior to his last round. After a straight-set victory over Denis Istomin in the second round, he won his second five-setter against Nikoloz Basilashvili. All three were remarkable wins, but it is the way in which he pulled his four-set victory in the fourth round against Seppi that was truly striking.
After having lost the first set and gone down a break in the second, and suffering from a lingering pain in his shoulder, Edmund suddenly began to produce his best tennis of the week for the next two hours. At times, Seppi looked helpless against the barrage of winners that Kyle was nailing from all areas of the court. He did not give up after the disappointment of losing the tiebreaker of the first set, kept a positive body language, showed all the signs of mental toughness that would delight any player's fans and coaching team.
Edmund was placed in a relatively advantageous section of the draw (Jack Sock and Kevin Anderson, the highest seeds). He took full advantage of that opportunity once he got past Anderson. With all due respect to Istomin, Basilashvili, and Seppi, they do not impose the same degree of intimidation that his next opponent or his potential future opponents this week will do when standing next to them in the tunnel prior to walking on the court.
Then, there are the tactical possibilities. As tennis fans, we could be treated to a wonderful spectacle if Edmund starts strong and protects his service games. That begins with a high percentage of first serves and an aggressive approach to the next shot coming from the opponent's return. This 1-2 punch pattern is in fact an essential part of Kyle's usual A plan, his "bread-n-butter" so to speak.
Let's ponder for a second. What if Edmund was to catch fire, à-la-sets-three-and-four of his win vs. Seppi?
To grasp the extent of how incredible Edmund's performance was in that period of time, you would need to watch the replay. He hit so many winners that, at a certain point in the match, I began to simply expect winners every other point and started considering them "routine points," only admiring the ones hit from impossible positions. Yes, I admit, from that point forward, I became what you would consider a spoiled tennis fan. Shame on me!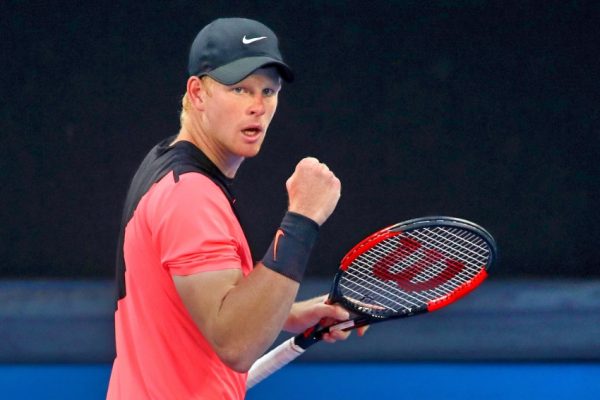 Photo: Clive Brunskill – Getty
Can Dimitrov extinguish that kind of fire? Yes, only because he moves quicker and defends better than Kyle's previous opponents. In fact, the Bulgarian is one of the best athletes in men's tennis. How many shots did Kyrgios hit in the previous round that he thought were winners, but ended up coming back, forcing him to take another crack? Only Nick could accurately answer that, but I will make an educated guess and say that the number was easily in double digits. Did you see, for example, the forehand missiles hit by Dimitrov while he was fully stretched and on the run? I can only hope, Edmund's behalf, that he did not use up all his winners against Seppi and that he still has plenty in his reserves.
There is also that scenario where some physical pain limits Edmund's ability to perform and he loses in straight sets, or furthermore, forces him to retire. Ignoring that possibility for a moment, I would like to say that I learned my lesson about picking against Edmund (twice in fact), and that I will not pick against him again. Yet, I cannot. I have believed in Dimitrov to go to the final since day one of this tournament. Edmund will simply have to teach me the same lesson again.
Rafael Nadal (1) vs Marin Cilic (6)
There are reasons for which Nadal has, for the most part, dominated Cilic since his only loss to him in Beijing nine years ago. It can partially be explained by intangibles unrelated to technical and tactical aspects. Rafa is one of the best athletes in the world and Marin is not the only player that he has dominated over extended periods of time. He has more experience in the second week of Majors, and on big stage, than any opponent he faces, unless the latter happens to be another member of the rare elites in our game (you know who they are). He is mentally the best competitor our sport has ever seen. I could continue with this list, but I will stop right here and move on to the tactical side where the forecast looks just as bleak for Cilic.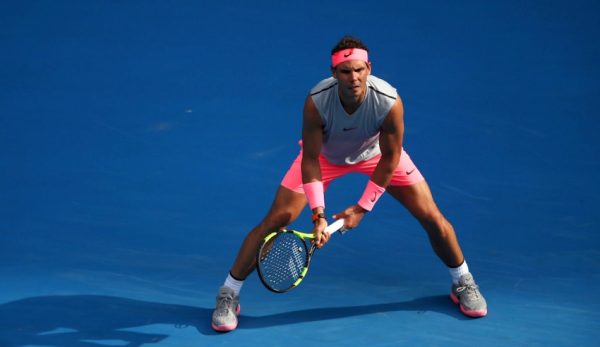 Photo: Clive Brunskill – Getty
Diego Schwartzman frequently gave Nadal fits during their match. He forced the Spaniard to come up with several great shots in a row to eventually collect the point. He sent a message to Rafa from the early stages of the match that he would not go away simply because he lost a long point at deuce or a contested game. In short, he gave Rafa some of his own medicine, because that is precisely how Nadal's adversaries feel until that moment in the match where they cease being his adversary and give up. Diego remained Rafa's adversary all the way to the bitter end.
He was able to do so because, first and foremost, he is quick. He could run down so many of Rafa's shots and send them back high and deep at times, flat and hard at others. His speed, agility, and explosive first step allowed him to change directions in the blink of an eye. His ability to counterpunch from off-balance positions produced winners for which even Rafa was not ready.
Well, I just listed a bunch of qualities about Schwarztman's game that lack in Cilic's. Let me be clear: Cilic is a good mover. If you hit an average drop shot for example, he has the speed to get to it and punish you. In a basic side-to-side rally, he can stay with his opponent and overpower him. His shortcomings appear if, for example, he has to quickly go outside the boundaries of the court to return a wide serve and immediately get back to the middle of the court for the next shot. Or if he has to stop and change directions during the rally when his opponent accelerates back to the same corner from which he is trying recover.
You can see two examples of these weaknesses in Cilic's first-set tiebreaker against Pablo Carreno Busta in the last round. In the first point of the tiebreaker, the two players engage in a rally that Cilic initially dictates until Carreno hits a forehand down-the-line that changes the pattern and forces Cilic to backtrack. It momentarily puts him on his backfoot. This allows Carreno to reverse the dynamics of the rally and make Cilic chase balls. Three shots later, Carreno makes Cilic stretch out to the forehand side, far behind the baseline. Marin nets the defensive slice attempt. Another example occurs later in the 4-2 point. Carreno accelerates inside-out with his forehand, which makes Cilic stretch his long legs wide and reach with his upper body for the two-handed backhand that he ends up floating deep. Look for points like this to multiply against Nadal.
When Nadal used this type of pattern against Schwartzman – the kind that Carreno used against Cilic in the points described above – Schwartzman defended without much difficulty. He got Rafa's shots back and did not miss a beat in recovery time. Cilic, on the other hand, will make errors, and consequently, Nadal will not feel the need to take more risks.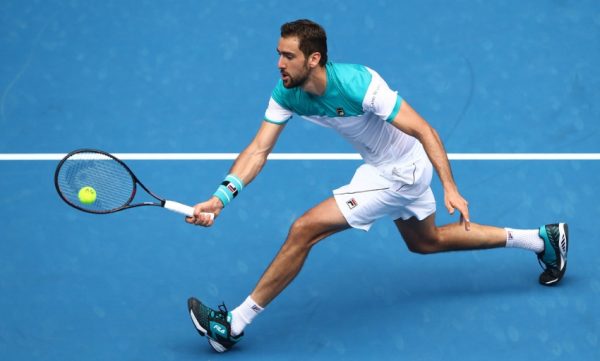 Photo: Cameron Spencer – Getty
So, what can Cilic do? He must concentrate on his own strengths and use them with conviction. It starts with his serve and court positioning. He has one of the biggest first serves in the ATP Tour. He must earn a large number of aces, and if the return comes back, he must take extreme risks on his forehand to control the middle of the court. He needs to flatten out his shots and basically look to hit Nadal out of the court, or at least keep him scrambling enough to the point where Rafa will not have the occasion to get set and turn the tables around in the rally. In short, Cilic will need to play big, à-la-USOpen-2014. He must either hit the winner or miss going for one. It's a tall order. Cilic's chances are slim at best, although it is within the realm of possibility. If he loses the first set, that realm may also disappear. I do not see Cilic winning three straight sets, or three out of four sets, against Rafa under any circumstance.
Enjoy the matches.